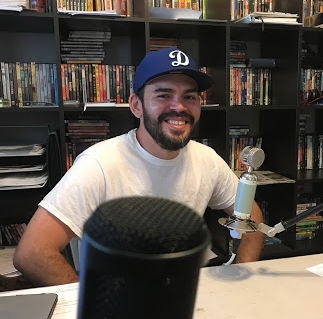 Joe Sapien joins the #YearOfTheVet family to seemingly just have a good time on the mic! I brought Joe in to talk purely about veteran benefits and to break some myths, but before record was even pressed, Joe and I had already had about 20-30 minutes of quality off-air time that felt like two friends meeting up after a long weekend to fill each other in; and I feel that as you listen, you'll begin to feel the same way.

Joe is a Veteran Service Officer with California Vet (that's a VSO for CALVet if you're hip with the lingo), and he has made a name for himself as one of the go-to guys in the system, that will be upfront with you, work hard for you… but most importantly—really give a shit about whether or not you leave his office satisfied (or at least with the next step to satisfaction).

Outside of the show notes below, there isn't much more to pre-load you with—but I do want to let you know… TAKE HIM UP with reaching out to him to have your questions answered about anything veteran benefits. BUT ALL I ASK OF YOU if you do take him up on the offer of reaching out to him… Please please please send an email with as much information as you can provide… as much and as honest information as you can, because the easier you make it for him to help you, I promise the process will go easier than if you don't.

Here's the show notes of our conversation and his contact info hidden in there somewhere so that you have to read it all!

AND...I hope you enjoy it as much as I did!
Costa is THE DUDE… I'm just the "co-host." (5:25)

The ripples involved with getting people their claims no matter the era of vet, or backstory of the past. (6:05)

"We're talk suck it up deal with it, I believe 80% of the stuff hasn't been reported" Tying the dots of a undocumented past. (6:35)

Signed up with the Army on April's Day 2001. "Where are all these drunk pilots coming from?" (8:15)

Joe's thoughts on Operation Iraqi Freedom. (11:55)

Joe's outlook on people. (14:05)

The wild wild of transition. (15:56)

How I got my birthday shoes…(19:45)

Joe's gripe with suits. (21:09) (1:56:06)

Judging a book by its cover. (22:02)

Conversations I'm bringing back from the California DAV conference. (25:00)

Vets taking care of vets, "the only way we can keep the VA on a straight line, is if we keep ourselves in a straight line. (26:45)

The VA Benefit talk starts… listen to this if you're not receiving VA benefits. (27:24)

Why it's important to go get seen for certain issues like sleep apnea, and now in the news… Anthrax. (29:28)

Joe's good and all… but he has some flaws too. (32:30)

"I'm Good to Go…" (36:07)

Joe's case load, and success rate… (37:45)

Joe talks about pushing through and filing your claims, getting out of the mindset of "give it to somebody that deserves it." (40:20)

Joe's call to action: Let's link up as veterans and be as big as the NRA, where we will stand up as one veteran in times where vets need support. (43:12)

I'm really just "Joe." Joe starts to talk about how he became the guy, who like Madonna, people know solely by first name basis. (46:11)

The one grudge that Joe holds dear to his heart… (49:17)

"Why not? Let them say no." Joe talks about applying to jobs he wasn't qualified for… ultimately landing his county job (50:52)

**Always do the right thing, because you never know who know's who… it's a small world… the same thing happened to me with Mark Manculich…"

The time when Joe was the Veteran of the Game at Dodger stadium (56:45)

Humble beginnings living in Modesto, California (1:00:39)

Finding gratitude in the shittiest moments in your life (1:02:04)

"If I tell you, come back tomorrow… I'm afraid you won't come back for 6 years…" (1:04:45)
How to help homeless vets: (1:05:00)
- Volunteers of America - https://www.voa.org/veterans
- P.A.T.H (People Assisting the Homeless) - www.epath.org/site/PATHServices/VeteranConnections/home.html
- US Vets - https://www.usvetsinc.org/programs-services/
- New Directions - https://www.ndvets.org

Branching out for growth. (1:10:15)
 
******PART TWO*******
 
"I have a giant head…" (2:30)

Benefits you never hear about. (4:45)

Benefit: Myth Breaking (11:10)

Conspiracy…? (22:15)

Lessons learned from misreading situations when it comes to vets (24:43)

Always pay attention to changes in politics, and explore some of the rumors to see if there's truth behind them. (28:10)

VocRehab (31:25)

Joe's approach on how we should live a day-to-day life. (40:43)

I ask Joe about his favorite or best success story as a VSO. (50:25)

What would you tell vet's who are struggling today? What's your best advice for those transitioning? (55:55)

Joe's Podcast: VET2VET (Veto if you're looking for it on youtube) (1:00:06)
Sepulveda Ambulatory Clinic, Bldg 22
DAV Commander Chapter 13; Meetings every Thursday at the Sepulveda VA Bldg 22
16111 Plummer St, North Hills, CA 91343